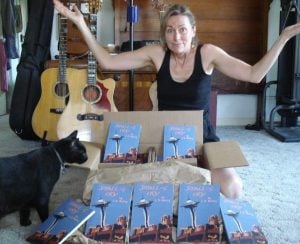 The publishing industry has changed a lot since I started writing novels back in the 1990s. E-books, the rise of small independent presses and self-publishing have greatly increased the number of titles available and niche markets have proliferated. As a result, authors must work harder than ever to promote their books.
Large traditional publishers (the type whose titles dominate the best seller lists) have their own publicity departments and offer promotional support to their authors, but those of us on the small independent press end of the continuum are mostly on our own. This is complicated further by our books being produced via Print On Demand (POD); traditional publishers offer book stores return privileges for titles that don't sell, but POD books do not have this flexibility. Book stores might carry a POD title on consignment, but this is something the author, not the publisher, has to arrange.
Authors in my situation are expected to develop a marketing platform, that is, a plan for publicizing and selling their books. Last year I discovered an incredibly useful marketing tool, a book by author and publicist Terry Persun, Guidebook for Working with Small Independent Publishers. It's a thin, information-packed volume that walks you through the process from start to finish and has a nifty appendix of a sample detailed marketing plan, including social media.
These days, publishers are particularly interested in the social media component of the marketing platform and they want to know about it before they even consider your manuscript. Are you on Facebook? Do you use Twitter? How about Linkedin? Do you blog? How many people are on your (old-fashioned) e-mail lists? For late-model Baby Boomers like me the digital world is less than attractive, but it's hard to beat for effectiveness. Many publicists say the key is to have a social media presence that you can faithfully administer. If you start a blog, offer it reliably and consistently. If you can't abide the thought of becoming a Twitter slave, don't do it. It's also important to offer your readership something of value- -an insider view of your work, an interesting topic you've come across while doing research, a "guest blog" written by one of your characters. I've been building my social media platform this year (this blog is part of it) and it hasn't been as burdensome as I'd supposed. In fact, it's fun to post entries and reply to comments. Coming up with artwork for the blog is really a challenge, but one I've started to look forward to every week (and BTW, thanks to feline supermodel Friday Matley for joining me in this week's photo).
Traditional marketing activities are still an important part of the overall publicity campaign. I'm in the midst of securing interviews, reviews and reading events, sending out press releases and media kits, ordering business cards updated for the website address and figuring out the best way to mold the cover art into an attractive and useful bookmark. The 100 copies of Small-g City I purchased for author events have arrived. My publisher, WolfSinger Publications, has set up the sales links at Amazon.com and other sites and the book page at my website has been updated for these links and the official cover art. Some of the results from all this activity will be showing up on the Events page at my website. This fall I'll have some readings in Southeastern Washington and a short tour in Western Washington, with more events out west in the spring.
Whew! Sounds like a lot of work, and it is. Fortunately, I found some good advice early on: a marketing platform is built day-to-day; gradually, not overnight; a marathon, not a sprint. I hope to see you somewhere along the marathon course.