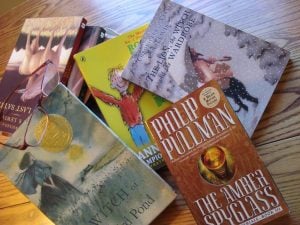 One of the benefits of being a writer is always having an excuse to read. Sometimes I'm focused on research for a story, sometimes I'm looking for the elusive "comp" title (meaning either comparable or competitive, depending on who you ask) for a book I'm trying to sell. Sometimes I read for pure fun (but don't tell anybody).
Lately I've been looking for comps for my Middle Grade historical fiction novel, and I found a nifty tool to help me- -Amazon.com. The search function allows for many levels of detail and I was able to drill down to Books>Children's Books>Literature and Fiction>Historical Fiction>United States>1800s. I was not surprised to find the much-loved "Little House" titles by Laura Ingalls Wilder in the top 100 of this classification, and while I'm happy to tell potential editors and agents that my book, Mary Benton, A Pioneer Girl, is a combination of the "Little House" books and Jane Eyre, most of them would roll their eyes at my audacity. Imagine my relief when I found Caddie Woodlawn (Carol Ryrie Brink (© 1935), Across the Wide and Lonesome Prairie, The Oregon Trail Diary of Hattie Campbell (Kristiana Gregory © 1997, Scholastic) and The Evolution of Calpurnia Tate (Jacqueline Kelly © 2009 Henry Holt).
Caddie Woodlawn was inspired by stories the author's grandmother told her about her own childhood. Set in frontier Wisconsin in 1864-65, one year in a young girl's life takes her from all-out tomboy to a more girlish frame of mind. Caddie is long on guts and daring and stands up for what she thinks is right. This book won the 1937 Newberry Award. As of this writing, Caddie Woodlawn is #16 in the Amazon category detailed above.
Across the Wide and Lonesome Prairie is the imagined diary of a young girl crossing the Oregon Trail in 1847. The heroine, Hattie Campbell, experiences a rugged six-month trip, filled with events that ring true when compared to the contemporary diaries of real people. Romance enters when Hattie's 14-year-old friend gets married during the crossing. Hattie, too, longs for someone to love her in that way. This book is presently #203 in my search category but was in the top 100 a couple of weeks ago (oh fickle Amazon!).
The Evolution of Calpurnia Tate has a sequel as of July 2015, so it's possible you've heard of it or even read it. Calpurnia builds a fascinating bond with her grandfather in the pursuit of scientific observation and discovery. The story takes place at the turn of the 20th century, with many new inventions and ideas on the horizon, including more career options for women. Calpurnia longs to be a scientist, not a housewife. The possibility (figuratively) balances on the edge of a knife blade by the book's end. Calpurnia's story is, at the moment, #18.
Girls grow up in a changing world, learning about themselves as they move forward. Will they choose love or career or a mixture of both as compromise lurks hungrily in the background? I haven't been an official Middle Grade reader since the 1970s, but I can still relate.