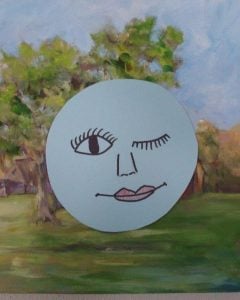 Blue Moon
It happened today at 6:43 AM, an event that, on the average, occurs every 2 ½ years. I'm talking about the Blue Moon.
Astronomically speaking, most of us think of a Blue Moon as the second full moon to occur within one calendar month (though the more scientific definition is the thirteenth full moon in a calendar year). In popular culture the term has been applied to everything from beer to Rodgers and Hart lyrics to Blue Moon Investigations from the television series Moonlighting. The expression "once in a blue moon" is used to describe a rare event.
On the topic of rare events, it's been another exciting week here at Matley Acres (both of them). For one thing, we had 2/100ths of an inch of rain a few days ago. No, there is not an extra zero in the denominator. Believe it or not, this is the first measurable rainfall we've had since May 27.
But wait, there's more! Last Thursday I received the edits for Small-g City, which have since been made and returned to WolfSinger Publications, along with the dedication and acknowledgements. (I'm very "edit sensitive" right now and just looked up whether "which" or "that" was correct in the prior sentence.) Editor Carol Hightshoe is getting the manuscript ready for typesetting and preliminary artwork should be available SOON. This is incredibly exciting and, at the same time, frightening. I'm trying not to think too much about how the book will be received, whether there's a typo or two lurking in the text, what I'll wear to the awards ceremony when I'm accepting- -whatever (I made up that last part). The manuscript was first submitted June 18, 2011 and accepted December 23, 2013. It's a mighty relief to be this close to publication, the kind of feeling I get (drum roll, please) once in a blue moon.