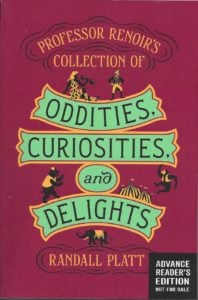 Several weeks ago I volunteered to write a review for "Professor Renoir's Collection of Oddities, Curiosities, and Delights" by Randall Platt (HarperCollins Children's Books © 2109).  I've been gifted an ARC (Advanced Review Copy) in exchange for an honest review. Expected publication date for this book is July 23, 2019.
Professor Renoir's Collection of Oddities, Curiosities, and Delights by Randall Platt
Reviewed by Susan D. Matley
"Professor Renoir's Collection of Oddities, Curiosities, and Delights" revolves around Fern Marie "Babe" Killingsworth, who at age fourteen is nearly seven feet tall. The year is 1896. Babe escapes the dead-end obscurity of her rural Idaho home when Professor Renoir signs her as an act for his a traveling circus.
Everyone Babe's ever met has told her being a "carnie" is the best option for a girl like her. Being so big (and strong) makes her a misfit in regular society; she stopped attending school in the third grade because she was too big to sit at a desk. Babe's new circumstances team her up with other misfits, including a beautiful dwarf named Carlotta, the company diva, who is also fourteen.
Babe loves animals and is first put into a comedy act with an aged chimpanzee named Euclid. Her natural flair for comedy soon propels Babe and Euclid to star status, to the fury of Carlotta and her pygmy elephant, Egypt. Carlotta fires the first metaphorical shot in a two-way battle of practical (and not at all nice) jokes, but when Professor Renoir launches a scheme to photograph both girls for compromising picture postcards they declare a truce, unite against their common enemy, and soon become friends. I won't reveal more of the plot because you'll have much more fun discovering it on your own. Suffice it to say, Babe and Carlotta have oodles of challenges ahead.
The story moves quickly, filled with twists and turns of victory and defeat. Platt's "carnie" world is alive with color and detail. She is unsparing in showing how cold the 1896 world could be to someone who is different, which may be a discussion-worthy revelation to younger readers.
I was educated and entertained by "Professor Renoir's Collection of Oddities, Curiosities, and Delights" but there's more to Platt's new book. Two strong threads tie the tale into a satisfying whole. The first, the struggle of transforming from child to adult. Platt shows this brilliantly from two perspectives, that of a giant who could easily be mistaken for an adult, and that of a dwarf who will, at first glance, always appear to be a child. The second thread that won my heart was what it means to live life as a misfit. Because, honestly, who hasn't felt like a misfit at some time in their life, especially in that awkward space between childhood and young adult?
Platt's characters live in a rough world and the language sometimes reflects this reality. Babe and Carlotta are capable of much, including mild (and well-provoked) swearing. I sincerely hope the gatekeepers of children's literature will recognize the appropriate context of word choice here; the story would seem oddly sanitized without it.
Will I buy this book? Definitely.
Will I also buy a copy for my favorite 'tween age reader? With joy.