April is National Poetry Month. Nestled within the celebration is Cowboy Poetry Week, April 15-21, 2018 (details here: https://blog.cowboypoetry.com/cowboypoetryweek2018 ). Two years ago I interviewed 4 cowboy poets in honor of this event: Clark Crouch, Doris Daley, Janice Gilbertson and Lynn Kopelke. I asked each them for an update on their creative endeavors. All have graciously consented. Most of this blog is in their own words. My interventions will be in italics. Grab your campfire coffee and settle in for a visit with these incredible artists that I am honored to call friends.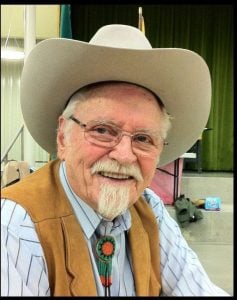 Clark Crouch
My view of the world has changed a bit since I was interviewed in 2016. Coming up on 90 next August, I've stopped performing, have given up the car, am writing fewer poems, and now engaged more in managing The Resource Network (TRN). The company is a non-profit publishing company incorporated in Washington State in 1981. The business plan for the company is unique (and quite strange) as the company operates with no income, resources, expenses, or employees.
Two new chapbooks were released in March under the imprint of Creekside Poetry Publications. Both are available internationally through major internet and local booksellers. They are:
Selected Poetry by Clark Crouch containing eighteen of my most recent western and cowboy poems. It captures bits of historic and contemporary western life even including a glimpse of "Pitcairn Cowboys" in the South Pacific.
Selected Poetry by Estelle Delson containing twenty-nine modern poems from the heart — the pleasure, sadness, humor, and pathos of the human experience in this grand journey through life.
The chapbook series is called Puget Sound Discoveries, a theme drawn from the Pacific coastal discoveries of Captain George Vancouver and his crew aboard the HMS Discovery in the late 1700s. It is planned to include both experienced and beginning poets, especially those who have not enjoyed extensive publication. No royalties are paid to the authors but they do receive domestic and international exposure at absolutely no cost to them.
Don't let his soon-to-be 90 years fool you, Clark is and has long been an internet whiz. Learn more about his publishing projects here:  http://poetlariat.org/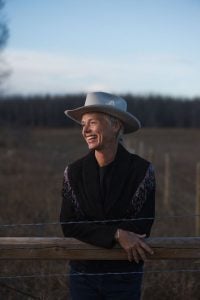 Doris Daley
In preparation of and to celebrate poetry month this year, Doris Daley launched a brand new CD with performance partner Eli Barsi.  "Once Upon the West" celebrates the traditional and contemporary west as seen through the eyes of a Saskatchewan prairie girl (Eli) and a Southern Alberta rancher's daughter (Doris).  This poem-song-poem-song CD is a true collaboration that celebrates coyotes, prairie winds, western friendships, going to the dance, life on the trail, good coffee and a whole lot more.
The April 7 Canadian launch cleverly took place during the fifth or sixth (everyone has lost count) snow event of April, illustrating the line in one of Doris's new poems ("once upon a prairie spring/a stabbing wind cut like a knife:). Doris and Eli debuted the album in the US at the Colorado Cowboy Gathering in Golden. Saskatchewan concerts are planned for June.
Several of the songs on the project started out as rhymes and scribbles at the end of Doris's pencil. Eli's genius is in hearing the music (or not) in a poem; the collaboration often starts with Doris's words. If a song is hiding in the stanzas Eli often hears it right away. For example when Doris recorded the signature poem, "Once Upon the West," Eli immediately said, "That's my new song for the CD! I hear the melody already, I know where the fiddles will go, I hear this tempo…those are the words for the signature song."
Doris and her husband Doc Mehl started 2018 by packing winter clothes, summer clothes, hiking clothes, stage clothes, a cello, a guitar, and sufficient red licorice for a road trip to Colorado, Arizona, Texas and back to Alberta. Then home for 10 days and over the Rocky Mountains to Kamloops, BC. Doc has long pursued his own career as a songwriter, poet and emcee; Doris and Doc now rejoice when a cowboy poetry gathering hires them both in the same year. Coming up are gigs in Prescott, AZ (August) and Heber City, UT (late October).
When not writing, collaborating on a CD, promoting/marketing/planning/producing launch parties and/or going to a gig, Doris happily works at home in Alberta's Diamond Valley at the best little library in the west. Upcoming adventure: canoeing the Missouri River in June. Stay tuned for the new classic barn burner saga, "We tipped downstream of Fort Benton, Montana the night after the lightning storm."
Doris has recently remodeled her website: https://www.dorisdaley.com/ . If you haven't visited there in a while, check it out!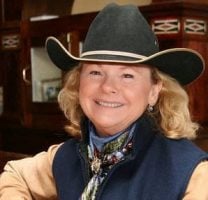 Janice Gilbertson
Since I owe my writing life to Cowboy Poetry, you can be sure it has a special place in my heart. It has been nearly twenty years since I wrote my first poem, and I was a late bloomer. But, I have to be honest here, I've not written a good and complete poem in quite some time now. In 2014 I began writing my first novel, and I am now half way through my third. I cannot, for the life of me, accomplish both genres at the same time. I am so fortunate to have written poetry first. I learned to really SEE what was important to my well-being and then find the words to convey my feelings. Heart-words. I believe learning about the honesty in cowboy poems made it easier for me to go ahead and write prose. Poetry made me much more conscious of my choice of words. When this current novel is as done as I can make it, I hope to take some time for poetry again. Doing so will, I know, ground me again. It will remind me of how "outside" sustains me inside.
Janice's second novel, 2016 release The Canyon House, was a finalist for the prestigious WILLA book award, sponsored by Women Writing the West. She was honored at the Women Writing the West conference in Albuquerque, NM, in 2017. http://janicegilbertsonwriter.com/excerpts-from-the-canyon-house/
Lynn Kopelke
It has been a quiet but not unproductive couple of years. I have been getting used to dealing with rejection again. This is a good thing. Not being invited back to this or that Cowboy Gathering happens to everybody. There is a lot of talent out there that needs and deserves to be heard. Believe me it took months of whining and grumbling to arrive at this point but I think I made it. I will be returning to the Lost N Lava Cowboy Gathering (Shoshone, ID), September 14-16 and will be at The Spirit of the West Cowboy Gathering, President's Day weekend 2019, in Ellensburg, WA.
This spring I'm off on a new adventure. I'm headed for North Dakota (yes, on purpose).The Medora Cowboy Gathering is hosting a "poet to painter to poet" exhibit as part of their gathering. I will be submitting at least two poems and have painted two pictures based on poems by two different poets. Each painting will be shown to another poet and they will write their own poem inspired by the picture. It's a really cool idea. That's the Dakota Cowboy Poetry Gathering, Medora, North Dakota, May 26-27. I might try and get something like it going, locally.
June 6th I'll be a bit closer to home in Lewiston, Idaho, performing with some of the best in the Northwest at the Lewiston Elks Club for the second annual International Western Music Association Columbia Chapter show case. We'll be there all afternoon and evening. I am starting summer with a Colorado vacation sandwiched around another International Western Music Association event in Steamboat Springs on the afternoon of June 30th.
The painting "business" came close to break even in 2017 thanks to good gallery sales here in Enumclaw and pretty drastic drop in expenses, largely in inventory and rental fees. I'm confining my Art/Street Fair presence to places I can set up for practically nothing.
I have found some truth in the old adage that says something about "It's who you know that counts." A lot of my poetry jobs are due to a couple of good friends. I'm trying to remember to pay it forward when I can.
Lynn will be wearing his "artist" hat at the Columbia River Cowboy Gathering in Kennewick, WA (http://columbiarivercowboygathering.com/ ). Look for vendor "Open Crown Productions" https://www.opencrownproductions.com/  He will also be performing at the Dayton Memorial Library (Dayton, WA) the evening of April 19 as part of their cowboy poetry celebration: http://www.daytonmemoriallibrary.org/ .
Thanks to Clark, Doris, Janice and Lynn for giving us the scoop! Happy Cowboy Poetry Week to all.