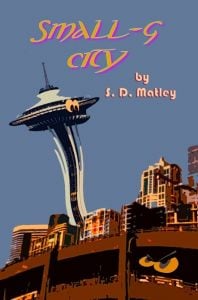 Before I get started, I'd like to thank S. D. Matley for inviting me to write this week's blog. It's an honor to be the first Small-g City character to take this responsibility. To be honest, she had to do some arm twisting as I'm not a fan of digital technology. As a counselor, I know it's important for me to confront my weaknesses, so I finally said yes.
If you haven't met me yet through Small-g City, let me introduce myself. My name is James Ares Smith. I was born in 2590 BC and am now the mortal equivalent of 46. I'm part of the immortal-staffed corporation, Olympus, Inc. We do all kinds of work world-wide that supports the mortal population, though we do this without your knowledge. At least you didn't know about it before Small-g City.
I presently serve as Regional Supervisor Pacific Northwest Region and Structureling Adviser, an impressive title but it's a big step down from my last assignment, Continental Manager of Australia. I'll say no more about my demotion, as it concerns a family matter. Far be it from me to stir the pot. You may not know what a Structureling Adviser does. Perhaps you don't know what a structureling is? Let me explain.
Structurelings are small-g gods who disseminate their molecules into mortal-made structures that are on the shaky side, to reinforce the structures and make them safe for mortal use. It's an extremely difficult job, both for the physical strength required (one structureling is assigned per structure) and the mental discipline needed to combat extreme loneliness. Structurelings can only leave their assignments if Zeus (yes, that Zeus, the Biggest of Big-G Gods) reconstitutes them to their humanoid form and puts another structureling in their place. Structurelings get one year of vacation per century, so reconstitution is a rare event.
Small-g gods like me have been assigned as counselors to the structurelings, to keep them as sane as possible during long stints of workplace confinement. We meet with our clients once a week, minimum, and more often when (not if) emergencies arise. I've got a big caseload in the Pacific Northwest. I don't consider it a breach of client confidentiality to name a few of those under my supervision for illustrative purposes. Ralph has supported the Alaskan Way Viaduct, a raised highway on the Seattle waterfront, since it was completed in 1953. Clifford took the Space Needle in 1962 at the opening of the Seattle World's Fair. There's Mavis in the Tacoma Dome, old Henry in the Smith Tower and many more, besides. They all have issues with the structures they occupy and personal issues as well.
You may wonder if, like many counselors, I have difficulty with my own personal relationships. I'd rather not say, as it would expose certain family problems that, frankly, give me acid reflux, but I will share some of my interests. I've always been a sports fan, from my college days on the Athens U chariot team to the present. Basketball is my current favorite. The worst day in my life was when the Seattle SuperSonics moved to Oklahoma City. I'm fond of the mortal board game, Stratego (original version; if there's an electronic one I don't want to hear about it). My wife, Candy, is the joy of my life, especially when she's in a good mood (and I don't mean that as a criticism). I enjoy making espresso drinks, cooking (pasta is my specialty) and reading. In case you're wondering, I have read Small-g City. How does it feel to have an episode from my life appear in a book that's available to the general public? To be honest, I feel somewhat exposed, but I mean that in the best possible way. Really.