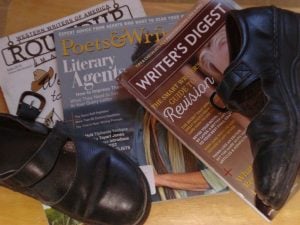 What do trade magazines and scuffed shoes have in common? It's a personal thing. They are integral to the two resolutions I just can't keep.
Two years in a row I've resolved to polish my leather shoes once a month. How hard is that? I have no objection to shoe polishing and used to be pretty good about shining up my pumps once a week when I worked in big-cheese accounting many years ago. It was a Sunday night comfort activity, a throwback to my childhood when I polished Dad's shoes while watching The Wonderful World of Disney, a paying gig at two cents a pair.
Trade journal avoidance, as far as I can tell, is about self-spite. I know that each issue of Writer's Digest will have at least one article that will not only be interesting in general but will contain something vital that I need to know right now. Roundup, from Western Writers of America, has news and book reviews that keep me current in that genre. I resist Poets & Writers most of all, probably because (for me) it errs a few degrees on the chic side of literature, or maybe it's all the glossy ads for MFA writing programs. But P & W has lots of interviews with publishers, editors, literary agents and writers who have interesting and informative insights about today's writing industry.
Is it pathetic that I could hardly stop looking at my shiny Mary Janes when I flew over to visit Mom last March? That's the one and only occasion for which I've polished them this year. And, hey, I'm caught up on trade publications after binge reading through the current issues (okay, okay, and a couple of back-issues, too). I like to look neat and clean when I go out in public and I love to read- -what is the big deal here?
It's a puzzler, and I'll bet you have a couple of simple, reasonable things that you just can't make yourself do, too. A subtle reminder that all characters, real or fictional, have their flaws.