It starts with being a passionate reader. My devotion to fantasy lost me my best friend in seventh grade (I adored Narnia; she was fiercely into The Pink Dress). My sister and I were lucky to have parents and grandparents who read to us when we were little, and when she started kindergarten she taught me everything she learned at school. "Cat" and "dog" were especially useful words, a good base for learning how to spell new words with the simple change of the first letter.
That's when the writing kicked in, and it's now my official line of work after being an actress, an accountant, and a touring musician. Throughout, I've been an avid reader and there's always at least a journal-in-progress in my life, my sloppy cursive recording things real and imagined.
Evidence of a writer's life is scattered around the house- -a copy of the 1968 Port Townsend Police Digest with my article about elementary school fire drills; a file cabinet stuffed with manuscripts; a desk stacked with drafts-in-progress and research books. I have a thick file folder of rejections (you haven't "arrived" as a writer until you collect enough of these to wallpaper an average-sized bathroom). There's also a thinner file of acceptances, including a contract with WolfSinger Publications for my first published book, Small-g City (released in 2015). Small-g now has three siblings, Big-G City (2016), Beyond Big-G City (2020) and Crisis in Big-G City (2023). Book five, Justice in Big-G City, is my current work-in-progress.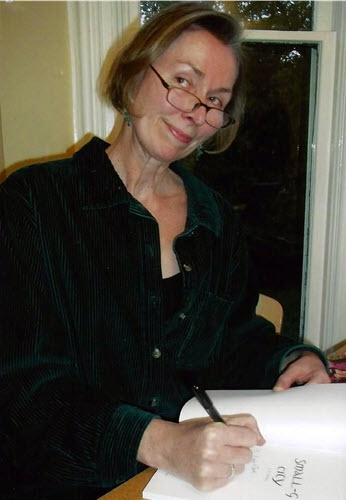 Author Susan D. Matley
Image by Kris Logue
Most of my fiction takes a speculative turn, influenced by whatever it is that makes me love both the The Chronicles of Narnia and the original episodes of The Twilight Zone. It's exciting to map out a world almost like our own but for one small (or sometimes, big) twist that punts it into the supernatural.
I've written (as yet unpublished) book-length projects in other genres- -women's, historical and middle grade fiction- -as well as poetry and songs. The one framed certificate in my office is from Western Writers of America, honoring my song "Show Me, Mister" as a finalist for their 2011 Best Song Spur Award. Since launching this website (2015) I write a weekly blog. In 2019 I was joined in this endeavor by my inner 14-year-old, Lily. In 2020 we became a trio thanks to the arrival of 9, my inner 9-year-old (do not bring up Nixon when she's around). They keep me honest!
That's who I am as a writer. Otherwise, I'm:
*A late-model Baby Boomer
*An enthusiastic portrayer of Matilda Sager Delaney, survivor of the Whitman Massacre (November 29, 1847), and Nellie Gilliam Day (1854-1940), Educator and Journalist, through the Fort Walla Walla Museum Living History Program
* A fitness enthusiast- -swimming, weights, yoga, dancing, walking
*Mother to the impressive tiger-tabby cat Hoosegow!